Dog Kennels | Boarding Kennels | Pet Kennels | Melbourne, Williamstown, Newport, Altona North, Spotswood, Yarraville
And of course our reward is having the fun of walking some beautiful dogs.
As spring comes around (eventually), many people think how great it would be to be a dog walker, forgetting that we have just come through a very cold and often wet or windy winter. Our job is not a fair weather ONLY job.
And the reality is that most dogs don't care.
Most dog love routine, but they are often indifferent to the weather (except severe thunderstorms or extreme heat that we don't walk in.
And when I say "don't care", my dog sometimes looks at me sideways when we get to the park and there is a howling wind and some rain is falling, but he is ageing, and he is sitting in a nice air conditioned car. The reality is that once he gets into the park its all about exploring and tracking friends or potential food.
I definitely didn't go into this job to decrease my wage to a quarter, that was just a side effect. I originally became a pro dog walker, because working in the corporate world, one driven by greed and one where NONE of the major companies I worked for actually cared about the customers, was soul destroying enough.
I also quickly realised that I couldn't give my dog enough time (morning off lead walks when they really need them), and there were few people around that were reliable and understanding enough of what dogs needed. That is, the amount of freedom and discipline (on lead time, recall etc) that goes to make a great happy dog.
The fact is, that there are very few jobs you can do as rewarding (not financially) and fun, and being responsible as a dog walker. Some owners might assume that its just a walk in the park, but
we go in all weather, and we are responsible that the whole pack is having a good time and learning or getting something profound from each of their walks.
While dog training is an 'in the moment thing', a few sessions with a pro who then leaves your house, or you leave their premises - it often doesnt 'stick'. And
it can never replace regular off lead walks for making and keeping a dog balanced
. Proper professional dog walking is teaching a dog to be social EVERY week of its life.
Very recently I have had a good few FREE consultations with prospective clients for dog walks, and it's reminded me of some of the common concerns that owners have. So I thought I would explain what off lead dog walking does for dogs here.
These dogs are mostly small to mid-sized dogs, so I will mainly be addressing the issues that those owners have.
1 Small, fragile puppy
Many owners get a puppy from a shop or a rescue group and quickly realise that their energy when they leave the at home to go to work ends up wrecking much of the house. Dogs chew from boredom and for teething issues mostly, and while walks won't prevent teething, we can recommend Healthy Dog Treats chews to assist natural chewing and great nutrition.
The puppies are almost invariably innocent looking, fun and happy, but there is a critical window between weening/ new owners getting their dog, and the 4 month time when they need to be with other dogs to learn appropriate social norms.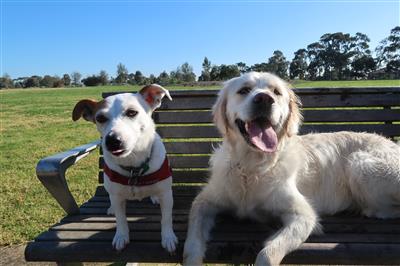 If you walk your dogs in Melbourne in 2017 spring, you the owner and your dog might have some effects of hay-fever.
In this article we look at common over-the-counter 'human' grade anti -histamines you can use with dogs, and their benefits and side effects.
Hayfever effects can come on later in life with humans, and so with dogs.
Signs are often:
sneezing,
itching,
red skin and eyes,
eye discharge etc.
Note itching and skin allergy like symptoms can be the result of organ or gland issues, so its always advisable to see a vet to confirm the cause.
OMEGA 3
One of the glamour oils of the dog industry, and vital for many functions within a dogs body. However if you get the dosage and ratio right (to omega 6 amounts) it can considerably reduce inflammation issues and skin allergies on dogs (around 50%) have very positive reduction in allergy effects.
This is a close up of Kooper the Chihuahua's eye. He is part of our Wednesday pack at the moment.
While I think its a good photo, it gives me a launching point to discuss the world form the dogs eye view.
Firstly the mechanics of the dog's vision.
It is more granular than a humans (not as high resolution) and doesnt see the red part of the spectrum, so while we see:
Red orange green blue indigo violet
DOGS see:
Mellow yellow, mellow yellow, WHITE (instead of Green) then most of the blues until the indigo violet end that is some kind of grey.
That means that if you are wearing a red or orange colour it kind of morphs with every other red orange and yellow into the same light yellow colour making you kind of camouflaged.
The lovely green grass that we take for granted your dog sees as WHITE.
Isn't that really an amazingly different view of the world? All those colour dog beds and toys we buy our dogs at a premium which they literally can't see as the colour we chose.
Their vision is much better than ours at night time, but I am discussing Kooper's eye view during his morning dog walks with the pack in Melbourne.